Marketing without data is like driving with your eyes closed.

Agent Trips™
AgentTrips™ helps you put the right message in front of the right prospect at the right time. Trips is automated marketing on steroids. When you set each client up on their own Trip, it can significantly help to improve your chances of turning a lead into a client.

Email Quotes
Sending prospects quotes can be really time consuming. Fat Agent allows you to email any prospect multiple quotes options with a few clicks of your mouse. Even for table rated and flat extra quotes.  It's never been this easy.
Email Signatures
Regardless of what you offer, you are your brand – so you need to make sure that your email signature looks like it. With Fat Agent, you can control your branding by including your logo and live email signature that can turn your emails into calls with "click to contact" information for mobile devices.
Template Builder
You can build custom html email and text templates, or you can use ours. And these aren't your basic, static images and content, either, but they include video and more to help enhance your message and make it truly stand out.

Drip Automation
Using drip automation, you can literally let your marketing handle itself. Pre-set messages will go out to prospects and clients, while you are able to spend time doing other things. With Fat Agent's drip automation feature, you can set up marketing campaigns to help you close more sales – without even trying!
Manage Social
Fat Agent also provides you with the ability to manage all of your social media profiles without ever having to leave your dashboard. Why login to separate Facebook, Twitter, Google+, and LinkedIn accounts when you can conveniently arrange your messages from just one place.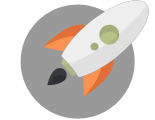 We're Here To Help Your Agency Blast Off!
Through Creative Ideas, Innovation & Sheer Determination